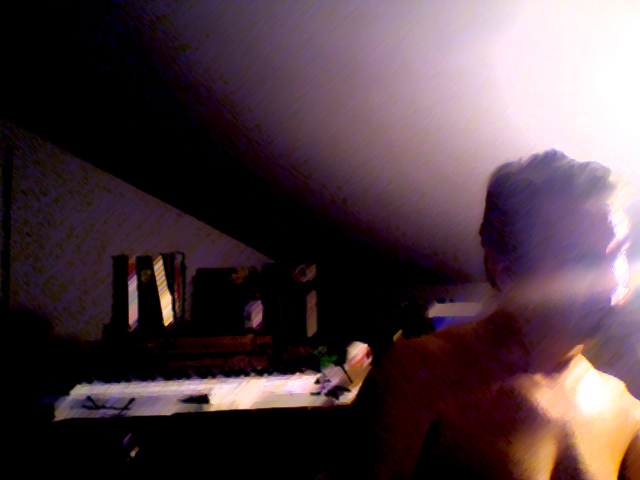 I went with the easy interpretation of the challenge theme: contrast.  As the month goes on I may try to do some more metaphorical interpretation, but for a quickie, I figured a study in chiaroscuro would do. I took a whole series of me in basically this pose, this composition, with the computer's built-in camera, then ran it through a couple of filters in Photoshop.  I like the original a lot, but I figured it needed to be artsier.
I like the way the strong ceiling angle behind me helps cut the whole thing in half. I also like the way the artistic filter has created large blocks of tonality, with just a few odd patches of color here and there.  It was not my intention to create a mostly colorless portrait, but it works, especially since my flesh-tones provide a great deal of focus.
Self-portrait—in what way?  I'm in my study, my natural habitat.  I'm not looking at the camera, which is typical of my connection to the world around me, or lack thereof.  I'm brightly lit and shirtless, but there is nonetheless a veil over my image.  It is not clear who I am.  Do I sound mysterious enough?