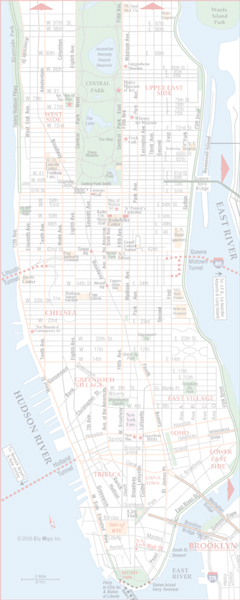 Here's an idea that I had that I will never play with, so feel free to take it. (Hence the newly renamed category Waste.)
I was playing school one day and showing kids what Manhattan looked like so they could better describe Piet Mondrian's Broadway Boogie-Woogie, and I fell to musing about the nature of the grid of avenues and streets.C4090-454
Mostly I mused about how we never seem to have caught on to the idea in all the development going on around here.
So, I mused, what would Manhattan look like if it had been developed by the developers of SummerGrove? I posited laying out a patchwork of dead-end streets overlayed on the grid, an exurban hell where now exists the world's greatest city.
I played with it for a few minutes, even developed the map at left in PhotoShop, but completing it was just not in my schedule.
replique montre suisse
nike air max 90 pas cher
nike air max 1 pas cher
louboutin femme pas cher
nike air max pas cher
replique montre
air jordan pas cher
replique montre
air max pas cher
air max femme pas cher
relojes especiales
réplicas de relojes
nike air max pas cher
nike air jordan pas cher
nike air max 90 pas cher
Nike Air Max 1 Pas Cher
I think it would be a great conceptual piece. Feel free to steal it.C4090-453